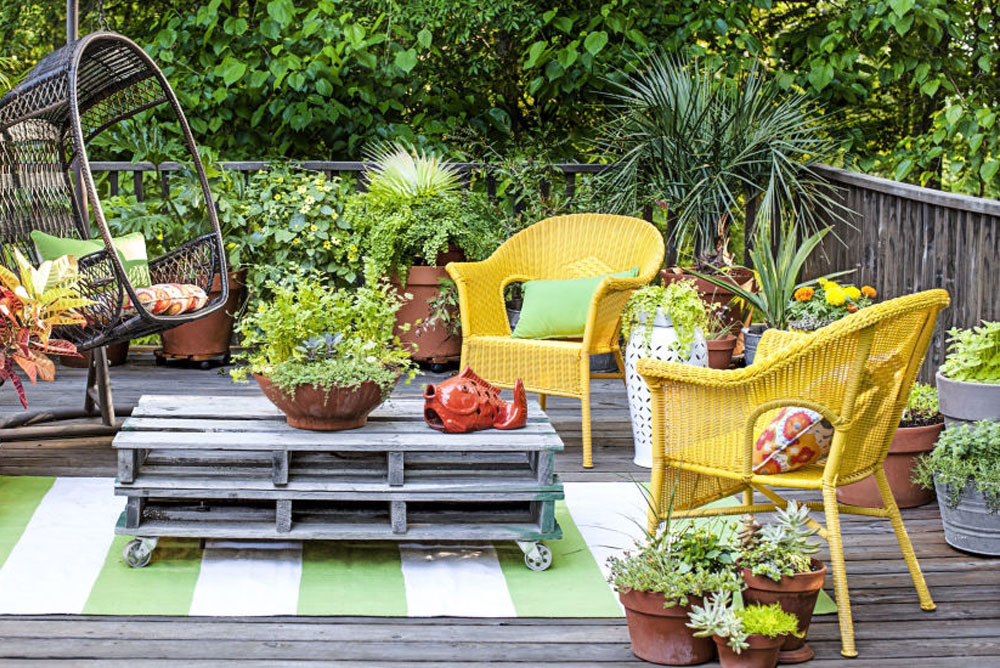 Indoor-outdoor relationships are important to any home design. Whether you live in sunny Provence or Hawaii, with their year-round outdoor weather, or Canada where we barely eek out four months to entertain outdoors, our desire to have a beautiful outdoor space is rather innate.
It doesn't matter if your space is small or expansive, there are several fantastic tips to elevate your outdoor entertaining space. Every outdoor space should be considered as a family room, dining room or kitchen nook. In some cases, with a very large space, you may have the luxury of treating the space like all three of those rooms in your home.
But let's focus on small outdoor entertaining spaces. When done correctly, even the smallest of spaces can provide a creative, useful and enjoyable extension to your home, regardless of where you live or how small your budget may be.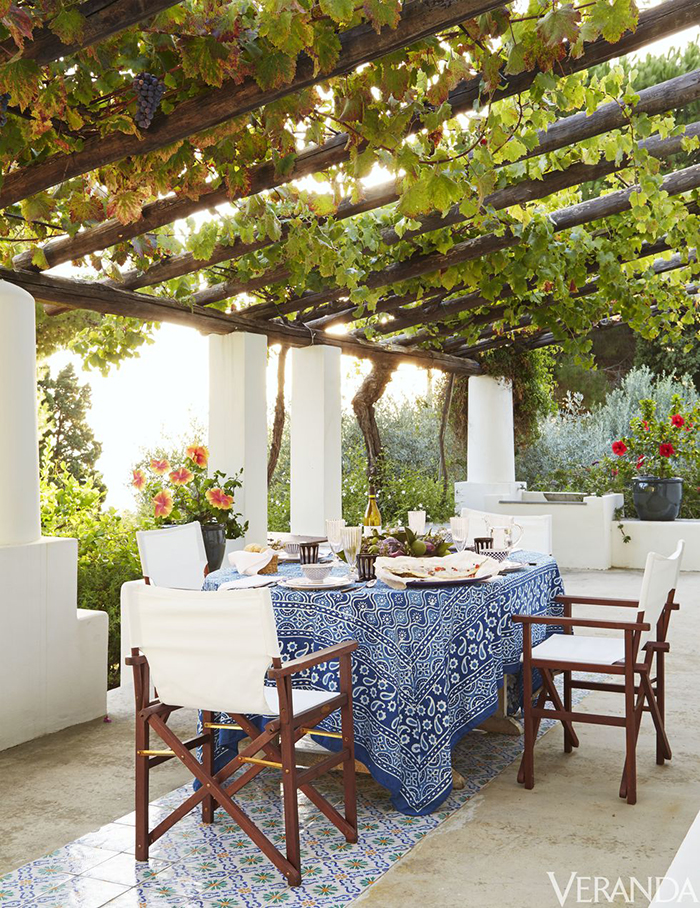 Photo by Veranda Magazine
Always start by ensuring your outdoor space has a great flow. Recognizing with small spaces this can be easier said than done, great flow can be achieved anywhere. The key is to not overcrowd the space. Some clients want to have an entertainment area, an outdoor dining table, a few chaise lounges etc. all within 250 square feet. This is a mistake.
I have learned this lesson the hard way. Several years ago I thought I could achieve everything imaginable on my small deck. Wrong! By the time I was done, you had to climb over the outdoor sofa to get to the dining table. Epic fail and obviously somewhat dangerous when combined with glasses of great wine. I certainly knew better, but failed to be creative. Instead ended up with a space that was not comfortable for any activity, let alone all of them.
If your space is tiny, focus on the primary use of the space. If most of your time will be spent lounging, then cross the outdoor dining table from the plan. Get some fantastic, small folding TV trays so when you do serve dinner on your patio, you can easily accommodate your guests and still use the space comfortably. Get creative and find items that you can use for more than one thing. For example, the fabulous TV trays can also double as a great place to put a potted plant.
When done correctly even the smallest of spaces can provide a creative, useful and enjoyable extension to your home, regardless of where you live or how small your budget may be.
With a diminutive amount of space to work with, where only a couple of chairs and a little bistro table can fit, you can easily add a significant amount of charm. A small indoor/outdoor area rug will add a level of interest and design to any outdoor space. It will warm the space up and anchor it providing a solid focal point at the same time.
In addition, plants do absolute wonders, and a few ideally placed shrubberies can really go a very long way, adding colour and texture. Plants can be very expensive so it's essential to choose your "ideally placed" plants wisely. Indoor/outdoor cushions are another absolute must. They come in every pattern and colour under the sun, so once you select your palette, you can incorporate the colours in your outdoor cushions and coordinate it with your rug. Even umbrellas—which used to come in only a few colours—now come in just about every colour of the rainbow. Again, another great way to add colour or texture to your outdoor space.
Garage sales can be another fun and inexpensive way to find a few charming objects for your small outdoor space. You can often find outdoor pots for next to nothing and yet they can be quite expensive when purchased from the store.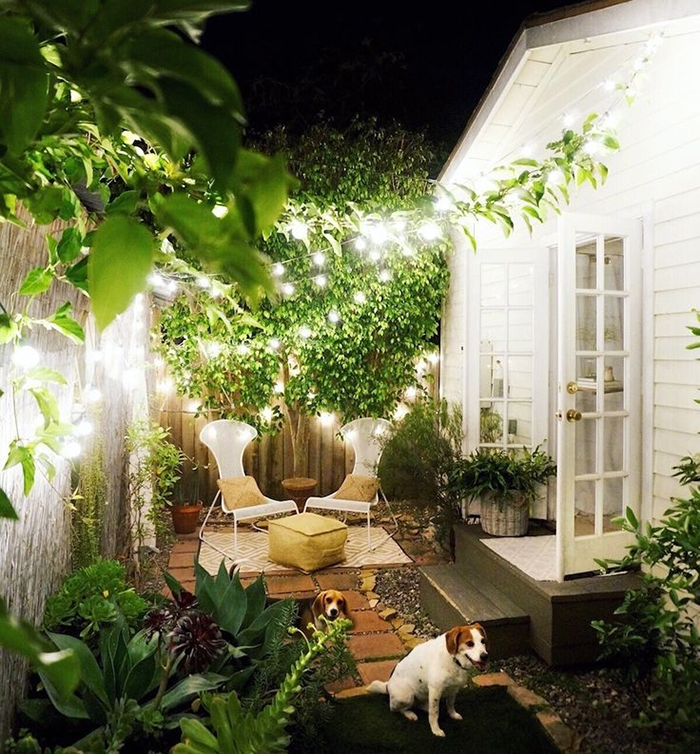 Photo by http://luxuryoutdoor.co
One important thing you may want to consider, should your outdoor space be visible from the inside of your home, choose a cohesive or complementary colour scheme for both. This does not mean you cannot have a neutral living room inside and add a splash of colour to the outside space. But if, for example, your living room is full of purple, you may not want to have your patio all done up in orange. Nor does it mean your small outdoor space should be all about colour. You can do amazing things using different textures if colour is just not your thing.
Finally, do not forget to include some fantastic outdoor lighting so you can enjoy your space late into the evening. The new options in solar lights for the patio are amazing. I am seriously crushing on the new plastic, solar, Edison-style hanging lights that are designed to be strung up from one side of a patio to another. So, let's all get outside and enjoy our outdoor entertaining spaces while we can, regardless of the size.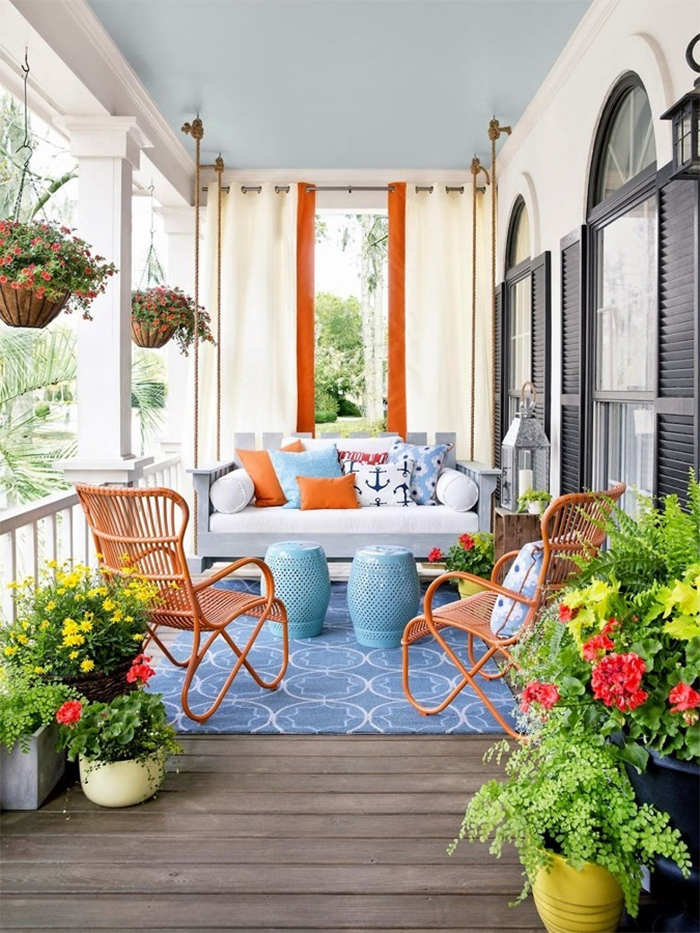 Photo by https://fotos.habitissimo.com.ar/foto/porche-de-casa_184206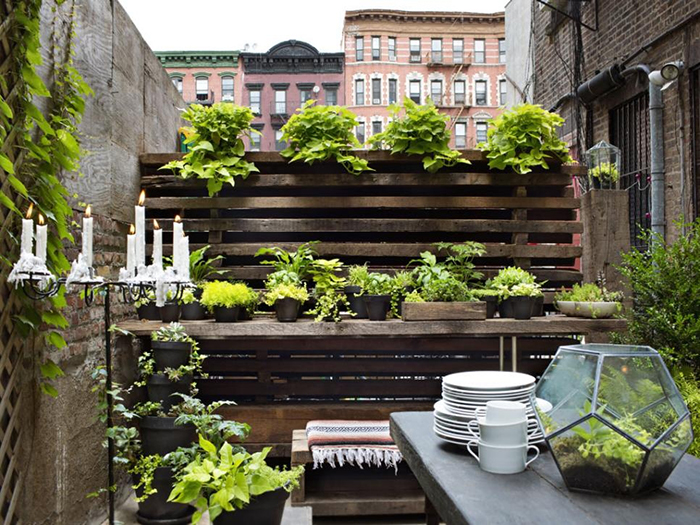 Photo by http://luxuryoutdoor.co