Upholstered Furniture
Upholstered furniture from Simply Amish elevates your home with timeless pieces perfectly suited to your personal style. We offer only the highest quality upholstery options to ensure your home furniture lasts for years. Upholstered furniture offers the best in comfort and aesthetic appearance, with both cushions and frames expertly covered in fabric or leather. Our superior materials are made to withstand years of use, for maximum comfort and durability.

Along with being long-lasting and low maintenance, our high end furniture is made to fit your lifestyle. Customized for any room and to fit any design taste, each customer selects the furniture option that most appeals to their needs and desires, whether fabric or leather, contemporary or traditional. Whichever interior design direction you choose to go in, Simply Amish's custom upholstery will be expertly designed and finished to fit perfectly into your space.
Fabric Upholstery
Relax in your living room, bedroom, or home office on custom furniture upholstered with the fabric of your choice. We offer a variety of vibrant, durable fabrics providing the perfect setting to enjoy at the end of your day or during an evening with friends. Fabric options are virtually limitless, with dozens of patterns, colors, and textures to select from. Furniture upholstered with fabric provides a soft, warm, and comfortable element to complete your home. Our high quality fabrics can withstand years of use while being easy to clean and maintain. Match your upholstered furniture to fit seamlessly into the design of your room, complementing the mood, colors, and overall look.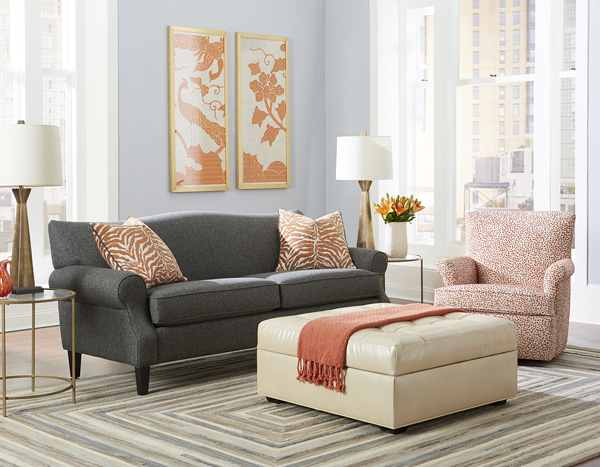 Leather Upholstery
For an elegant, classic appearance, quality leather upholstery is the perfect choice. Durable and easy to care for, leather furniture is timeless and features several colors to choose from to fit your space. Expert upholstery ensures a sleek and high end look for your selected furniture. While fabric upholstery may need more frequent vacuuming and washing, leather requires very little effort to maintain. With proper care, it will last for years, with only an occasional dusting or wiping down. Leather furniture is also hypoallergenic as it doesn't harbor dust or other allergens. Add a trendy, modern look to your home's living spaces with upholstered leather furniture.
Furniture Options
Upholstered furniture from Simply Amish comes in a variety of options to fit the needs of your living space. Complete your living room with fabric or leather upholstered sofas, sectionals, or armchairs. Motion furniture is also an option, such as recliners or reclining sofas using the latest in reclining technology for comfort and functionality. Simply Amish provides a variety of furniture options and styles from trusted, top brands like Elran and Norwalk.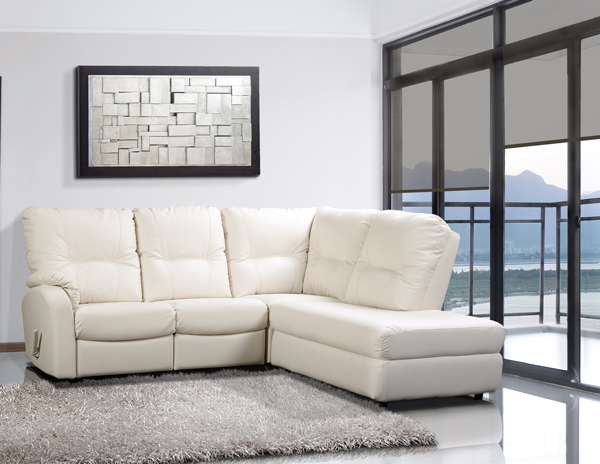 Sofas
A living room is not complete without the perfect sofa as the centerpiece. Fabric or leather upholstered sofas allow you to customize the aesthetic of a room with your choice of pattern, color, and texture. Choose between a variety of modern or traditional designs, like the ones from Norwalk or Elran.
Sectionals
Maximize the seating in your space with a cozy, upholstered sectional. Whether you need to seat three or seven people, the right sectional in your space can be both functional and beautiful. Instead of buying multiple smaller furniture pieces, you can fill your room with a sectional in traditional, transitional, or contemporary styling.
Recliners
An upholstered recliner has long been a symbol of relaxation. With a high back, armrest, and a footrest, a reclining armchair or other motion furniture is the perfect way to kick back. Get the comfort and flexibility you need in your home with reclining chairs and sofas from quality brands like Elran and Norwalk.
Browse Upholstered Furniture
Simply Amish has been handcrafting fine furniture for decades, and upholstered furniture provides another option for you to personalize your home. Whether you choose a fabric or leather sofa, recliner, sectional, or other home furniture option, Simply Amish is dedicated to providing only the best quality furniture for you to choose from. With custom furniture design and high end selections, our upholstery options are sure to fit what you're looking for to complete your home. Call today or visit our showroom to explore the variety of styles for upholstered furniture at Simply Amish of Indianapolis.